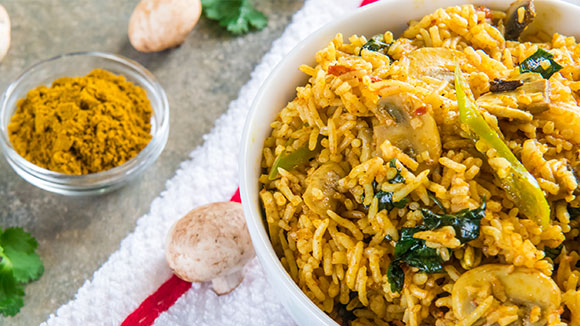 Mushroom Pilau
A wonderful rice pulau with button mushrooms infused with selected spices. Delicious as is as a vegetarian option or served with chicken, lamb or beef.
Recipe serves:

4

Preparation Time

15 Minutes

Cooking Time

25 Minutes
Ingredients
300g Basmathi
200g Button mushrooms, sliced
01 Knorr Chicken Cube
30g Astra Margerine
1 Onion, chopped
2 cloves Garlic, chopped
1 Tsp. Ginger, chopped
2 Green chillies, sliced
1 Pandan leaf
1 sprig Curry leaves
3-4 Cardamoms
3-4 Cloves
1 Tsp. Raw curry powder
1 Tsp. Chili powder
A handful of Coriander leaves
Water for cooking
METHOD
Melt Astra in a pot. Sauté the onions, garlic, ginger, green chili, pandan leaves, curry leaves, cardamom and cloves till fragrant. Then add the mushrooms and sauté for about 1 minute. Mix in turmeric, chili powder, curry powder and Knorr chicken cubes. Stir well.
Add the washed rice and sufficient water to cook. Bring to boil, simmer with a lid on till rice is done.
Add the shredded coriander leaves. Mix well. Season to taste and serve hot.
Chef's Tip: Add a bit of lime juice to enhance flavor.