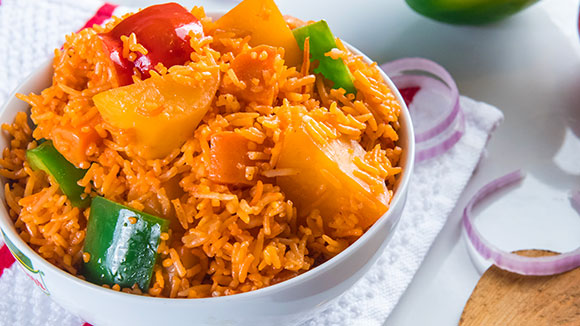 Vegetable Jambalaya
This easy vegetable jambalaya has amazing flavor and features a variety of vegetables. A one pot wholesome meal for the entire family.
Recipe serves:

4-5

Preparation Time

15 Minutes

Cooking Time

30 Minutes
Ingredients
250g Rice
01 Knorr Chicken Cube
150g Potatoes cut into small cubes
150g Zucchini cut into chunks
03 Bell Peppers, in three colours, diced
01 Carrot, diced
02 Tomato, chopped
01 Celery stalk, chopped
01 Onion, chopped
03 cloves of Garlic, chopped
30g Astra butter
½ Cup of Tomato puree
01 Bay leaf
1 Tbsp. Dried thyme
1 Tsp. Cayenne pepper
Water to Cook
Salt and pepper to taste
METHOD
Melt Astra in a pan. Add the garlic, onion and celery and sauté till fragrant. Then add all the vegetables. Stir well to combine and cook for a minute.
Add all the spices, tomato puree and rice. Stir well. Add the Knorr cubes and water. Mix and bring to boil.
Simmer till rice is done. Sprinkle parsley on top (optional). Serve hot.
Chef's Tip:

Add any type of meat to this recipe as a variance. Add extra tomato puree or stock for a juicy jambalaya.