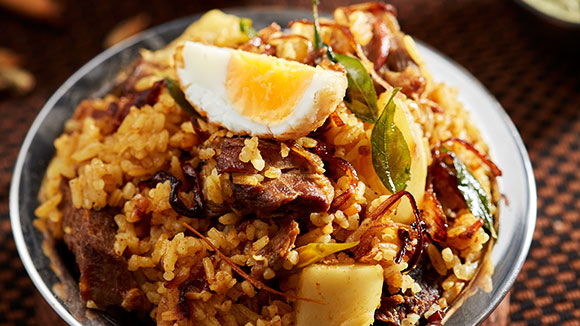 Beef Biriyani
Tender beef infused with garlic, ginger and a special spice blend combined with fluffy basmati rice. Indulge in a mouthful of flavour in every bite.
Recipe serves:

4

Preparation Time

25 Minutes

Cooking Time

35 Minutes
Ingredients
350g Basmathi rice
300g beef on the bone, cut in to chunks
200g potatoes cut in to cubes
1 packet Knorr Biriyani Mix
1 cup yoghurt
150g onions, sliced
150g tomatoes, sliced
1 teaspoon, ginger
1 teaspoon, garlic
1-2 green chilies, sliced
1 inch piece rampe
1-2 sprigs curry leaves
1 tablespoon ghee
1 tablespoon chili powder
20g Astra
Handful of coriander leaves
100g fried onions to garnish
100ml water to marinate
300ml water to cook
½ teaspoon salt
METHOD
Marinate beef with Knorr Biriyani mix, chili powder, yoghurt and water. Set aside for 15 minutes. Meanwhile fry the onions for garnish and keep aside.
In a pot add Astra and ghee. Now add the ginger, garlic, green chili, rampe and curry leaves. Sauté till fragrant. Add onion and tomatoes and sauté for a few minutes, then add the marinated beef, potato and fry for a few minutes till beef is halfway cooked. Then add the washed rice, salt and water. Bring to boil and slow cook with a lid on till rice is done.
Finally add the coriander leaves, fried onion and mix well. Serve hot.
Chef's Tip:

Pressure cook beef to save cooking time.