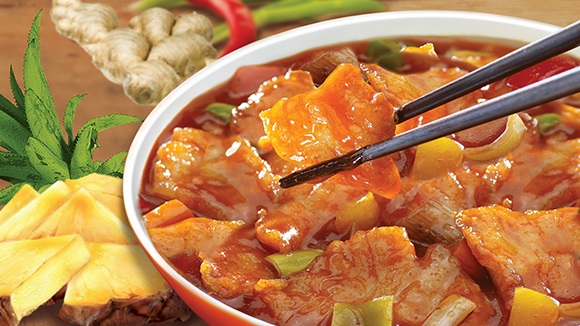 KNORR CHINESE SWEET & SOUR RECIPE MIX
Made with fresh tomatoes, pineapple, chilli and pepper creates wonderful sweet & sour dishes in 3 simple steps
Recipe serves:

4

Preparation Time

10 Minutes

Cooking Time

15 Minutes
Ingredients
250g Fish
Knorr Chinese Sweet & Sour Recipe Mix
1/2 carrot
1 egg
1 big onion
10ml oil
4 tbsp of refined flour
1 capsicum
METHOD
Season fish with salt and pepper, mix with batter (egg mixed with flour), deep fry till crispy and cooked.
Slice vegetables, pan fry for 2 mins. Add 225ml (1 1/2 cup) water and add contents of the Knorr Chinese Sweet & Sour pack. Bring to boil and simmer for 2 mins.
Place fish in a serving dish and pour gravy over. Serve hot!
Chef's Tip:

Any other seafood such as Prawns, Cuttlefish or meat such as Chicken or Pork is ideal with this recipe.