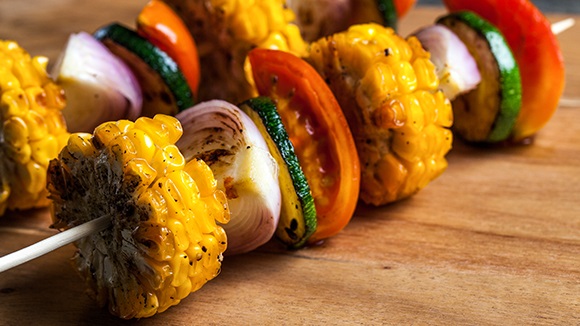 Chicken flavored Corn kebabs
Grilled vegetable skewers loaded up with marinated corn, onion, tomato and zucchini. A colourful combination that looks and tastes fantastic.
Recipe serves:

3-4

Preparation Time

15 Minutes

Cooking Time

30 Minutes
Ingredients
3-4 corn cobs
1 sachet Knorr Chicken Seasoning Powder
50g Astra
6-7 onion wedges
6-7 tomato wedges
Zucchini slices (optional)
Salt and pepper
Kebab sticks
METHOD
Melt Astra in a pan and add Knorr chicken seasoning powder. Remove from heat and add pepper to taste. Set aside.
Cut cobs of corn into 1 inch thick pieces.
Add all the vegetables in to a bowl and pour in half of the Astra marinade to the veggies. Mix well to combine.
Let the vegetables marinate for 15 – 20 minutes and then arrange in the kebab sticks as desired.
Heat a grill and cook the kebabs till vegetables are tender. During the grilling process, rub the remaining Astra marinade on the Kebabs to ensure moisture and flavor.
Chef's Tip:

Add a teaspoon of Sugar and a tea spoon of soy sauce to the Knorr margination to enhance flavors.