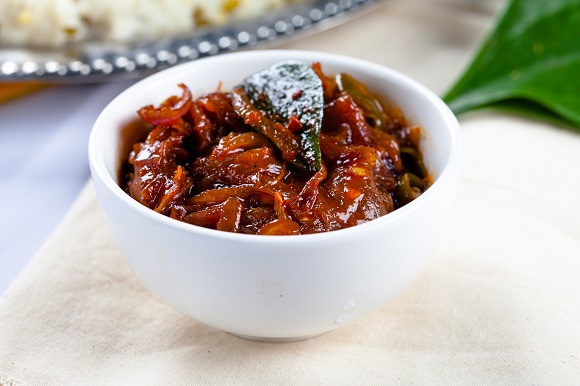 Quick and Easy Seeni Sambol
Traditional Sri Lankan onion relish. Sweet, spicy and super delicious. It's more easier to make than ever before!
Recipe serves:

4

Preparation Time

15 Minutes

Cooking Time

15 Minutes
Ingredients
600g Bombay onion, sliced
3 sachets, Knorr Maldive Fish Powder Mix
50g Astra
1 inch piece, Cinnamon stick
2 tablespoons, chili powder
1 tablespoon, chili flakes
1 tablespoon sugar
1 sprig, curry leaves
Salt to taste
METHOD
Melt Astra in a pan. Add the curry leaves, cinnamon stick and sauté till fragrant.
Add sliced onions. Sauté till translucent on a very low fire.
Now add all the other ingredients and cook till onions are soft and silky.
Serve hot with kiribath.
Chef's Tip:

Do not fry onions. Sweat the onions for a perfect texture.