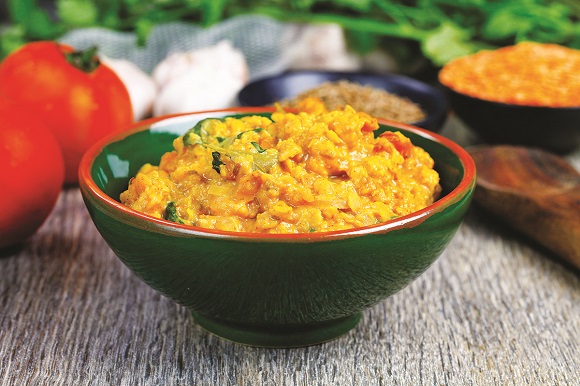 Dhal and Garlic Curry
Garlic, tempered with mustard seeds, red and green chilies and onions mixed together with dhal in a flavourful coconut curry
Recipe serves:

6

Preparation Time

10 Minutes

Cooking Time

20 Minutes
Ingredients
150gms Dhal
6 Cloves Garlic
1 Sprig Curry Leaves
2 Tablespoons Chili pieces
½ an Onion Finely sliced
3 Green Chilies finely chopped
1 Inch piece of Rampe Leaf
1 Knorr Cube
Water as required
1 Teaspoon Turmeric
150ml of Coconut Milk
Salt to taste
½ Teaspoon Mustard Seed
1 Tablespoon Astra
METHOD
Grind the garlic well.
Melt the Astra in a pan. Add the mustard seed and when it crackles, add the green chilies, rampe, curry leaves, onion, ground garlic and chili pieces and dry well till fragrant.
To this, add the dhal, turmeric, chili powder and water and boil till the dhal is cooked.
4.Then add the coconut milk and when it boils add a Knorr cube and stir through. Serve hot.