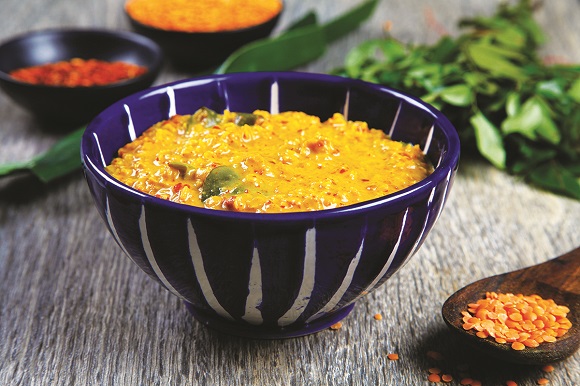 Fried Dhal Curry
A popular Indian twist to the traditional dhal curry, the whole fried grains gives it a delicious texture while the sautéed curry spices provide a rich aroma and spicy taste to this dish.
Recipe serves:

6

Preparation Time

10 Minutes

Cooking Time

10 Minutes
Ingredients
400gms Dhal
2 Knorr Cubes
1 Onion finely sliced
2 Cloves Garlic sliced finely
1 Green Chili finely sliced
1 Tablespoon Astra
1 Inch piece of Rampe Leaf
1 Sprig Curry Leaves
½ Teaspoon Turmeric
1 Tablespoon Roasted Curry Powder
1 Tablespoon Chili Powder
A small piece of Goaraka
1 Teaspoon Fenugreek seeds
Salt to taste
200ml Thick Coconut Milk
METHOD
Using no oil, toast the dhal in a pan till it turns golden.
In another pan, add the Astra and temper together the onion, garlic, green chilies, rampe, curry leaves and fenugreek seeds and temper till fragrant.
3.Then add the toasted dhal and all the other ingredients and bring to a boil. Finally add the Knorr cube and salt to taste. Serve hot
Chef's Tip:

Cooking this curry till all the liquid is evaporated makes it more delicious.