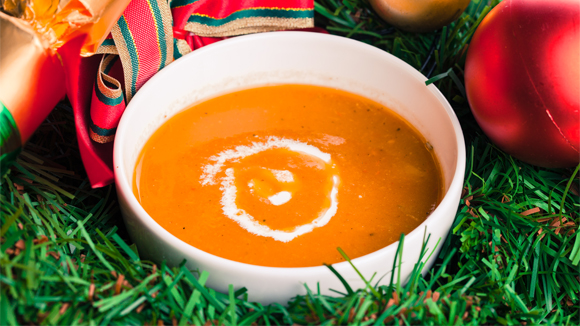 Spiced Roast Pepper Soup
It's all about peppers! This warm and hearty vegetable soup features bold flavours of roasted peppers and spice.
Recipe serves:

4-6

Preparation Time

Minutes
Ingredients
1 each – red, green and yellow bell peppers
2 Knorr Chicken Cubes
½ teaspoon – powdered cloves
½ teaspoon – cardamom powder
2 tablespoons – Sunflower oil
1 onion, chopped
1 clove of garlic, chopped
1 litre – water
Fresh cream to garnish
Salt to taste
METHOD
De-seed peppers and cut into large pieces and roast in moderate oven at 180o C till done.
Melt Astra in a pan and sauté the onion and garlic till fragrant. Add water, Knorr Chicken cubes and rest of the spices and bring to a boil.
Transfer the roasted peppers into the pan and take off heat.
Blend the mixture into a puree and return to pan and heat. Serve hot with a garnish of fresh cream on top.
Chef's Tip:

Instead of fresh cream as a garnish, 1 tablespoon can be added when puréeing, for a creamier texture.