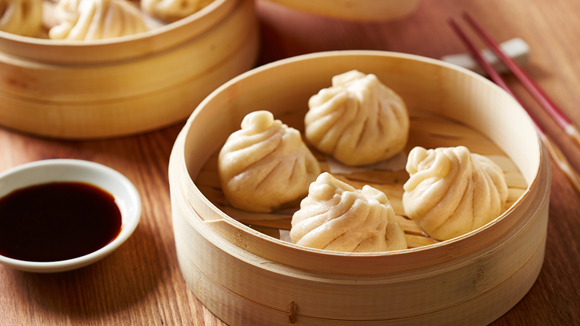 Steamed Chicken Dumplings
Authentic Chinese dumplings with a robust meaty filling that's packed with texture and flavor
Recipe serves:

4

Preparation Time

30 Minutes

Cooking Time

30 Minutes
Ingredients
Dumpling dough
300g Flour
1 tsp Baking powder
10g Salt
Warm water to mix
For filling
150g Minced pork or chicken
1 sachet Knorr chicken seasoning
10g Astra
1 no Chopped onion
1 clove Chopped garlic
50g Chopped carrot
50g Chopped celery
A handful of chopped spring onion leaves
METHOD
Mix flour, baking powder and salt together. Add water gradually and knead to form soft smooth and non-sticky dough.
To make the filing, melt Astra in a pan then add chopped garlic and onion till fragrant then add minced pork/chicken, Knorr chicken seasoning and fry for few minutes and add carrot and celery. Finally mix in the spring onion leaves and take off from the fire.
Take a small portion from the dough and flatten it to form a circular shape. Similar to how you do when making patties.
Place a spoonful of the meat mixture in the middle and fold in half. Apply water on the edge of the dumpling and seal by tucking the dough with your fingers.
Now steam in a steamer for a light dumpling or fry in a pan with a little Astra for a crispier dumpling.
This delicious easy-to-prepare dish can be served either as an appetizer or as a main.



Chef's Tip:

Dumplings are an ideal substitute for noodles or rice in soups.