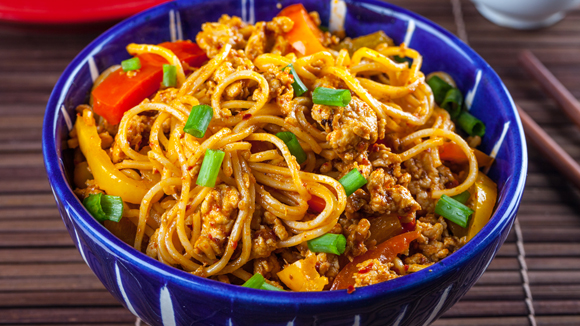 Extra Hot Chili Chicken Noodles
Extra hot Chinese noodles with classic Chinese ingredients and peppers
Recipe serves:

4

Preparation Time

15 Minutes

Cooking Time

30 Minutes
Ingredients
300g Chinese noodles cooked
1 pkt Knorr Chinese chili recipe mix
200g Minced chicken
1 no Onion thinly sliced
2 cloves Garlic chopped
1 inche piece Ginger chopped
1 each Red and yellow bell pepper
30g Astra
2 tbsp. Dark soy sauce
4 tbsp. Rice wine
Chili oil to drizzle
METHOD
Melt Astra in a pan. Add onion, ginger and garlic, sauté till fragrant. Then add minced chicken and sauté for few minutes
Add sliced peppers and sauté for further more minutes.
Add dark soy sauce and rice wine. Cook for few more minutes and then add Knorr Chinese chili recipe mine
Add cooked noodles and toss well to combine. Serve hot with chili oil drizzled on top.
This quick and easy noodle dish is great for lunch or dinner.



Chef's Tip:

To make it more spicy add 1 or 2 tbsp. of chili paste.