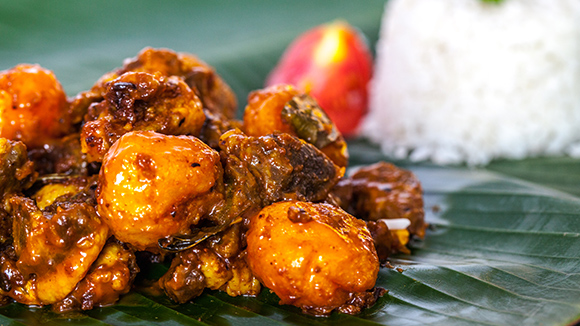 Spicy mutton and baby potato curry
Tender mutton infused with tamarind, lemongrass and green chillies mixed with crispy baby potatoes.
Recipe serves:

4-5

Preparation Time

20 Minutes

Cooking Time

40 Minutes
Ingredients
500g mutton cut into cubes
300g baby potatoes
1 packet Knorr Chinese Chilli Recipe Mix
1 onion, chopped
2 garlic cloves, chopped
1 green chilli, sliced
1 piece lemongrass
1 cinnamon stick
1 teaspoon turmeric
Curry leaves & rampe
1 tablespoon tamarind extract
Salt to taste
Oil to fry
METHOD
Boil potatoes till done, then deep fry till golden brown. Sprinkle a pinch of salt, toss and set aside.
In a separate pan heat 1 tablespoon of oil. Add onion, garlic, green chilli, lemongrass, curry leaves, rampe and the cinnamon stick. Sauté till fragrant.
Add mutton, turmeric, tamarind extract and sauté for another few minutes. Cover and cook while turning constantly till mutton is halfway cooked.
Then, mix in the Knorr Chinese Chilli Recipe Mix and stir well to combine all ingredients. Cover with a lid and let it cook for a few minutes or till mutton is done.
Add fried potatoes and mix well. Serve hot.
Easy recipes never tasted this good. Your list of quick recipes just keeps expanding.



Chef's Tip:

To make this a dish with gravy just dilute Knorr Chinese Chilli Recipe Mix with 300ml water, pour it into the mutton curry and cook till the gravy thickens.