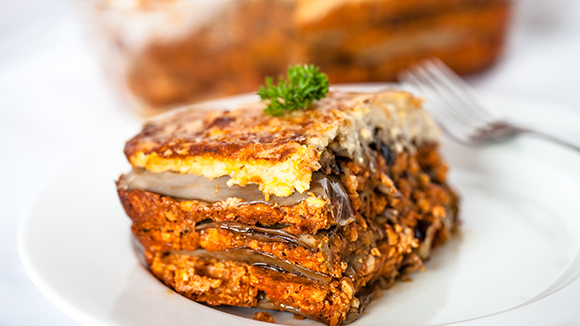 Cheesy beef and eggplant moussaka
A hearty Greek dish featuring grilled eggplant with a chunky minced beef sauce, smothered with a layer of baked cheese.
Recipe serves:

7-8

Preparation Time

15 Minutes

Cooking Time

30 Minutes
Ingredients
7-8 eggplants
700g minced beef
1 onion, chopped
3 garlic cloves, chopped
20g Astra
3 cups tomato sauce
300g tomatoes, chopped
1 packet Knorr Chinese Chilli Recipe Mix
1 tablespoon dried herbs
1 cup bread crumbs
¼ cup oil
¼ cup flour
500ml milk
150g grated cheese
Salt and pepper to taste
METHOD
Cut eggplant into thick slices or lengthwise and season with a pinch of salt. Grill or bake in an oven till halfway cooked. Let it cool.
Melt Astra in a pan and sauté onion and garlic. When fragrant, add minced beef and sauté for a further few minutes.
Add tomato sauce and chopped tomato. Cook till beef is done and sauce thickens. Mix in the herbs and Knorr Chinese Chilli Recipe Mix. Season to taste.
Mix bread crumbs into the mixture and set aside.
Heat oil in a separate pan. Add flour and stir continuously for 1 minute. Add milk gradually and season with salt and pepper.
Mix in the cheese. Stir and take off from heat.
In an ovenproof dish, spread a small amount of the beef mixture and arrange on top a layer of roasted eggplants. Fill up the dish arranging layers of beef mixture and eggplants.
Finally, pour cheese sauce over it and bake in an oven at 200°C till the top turns golden brown.
Serve hot.
Halve your prep time with quick recipes like these that take only 15 mins prep time! That's right, easy recipes just got a little easier.



Chef's Tip:

Use mutton as a substitute for beef. This dish can be made in advance.