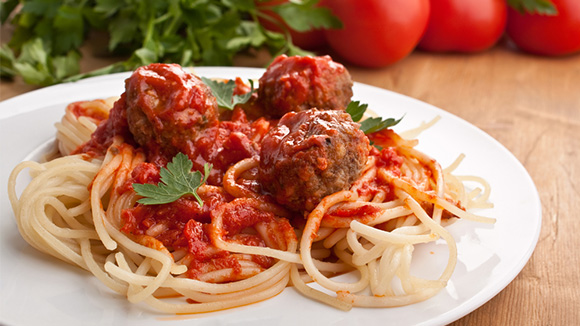 Meatball Kuruma and Buttered Spaghetti
Juicy meatballs drenched in a spicy Indian sauce, served on a bed of buttered pasta.
Recipe serves:

2 to 3

Preparation Time

10 Minutes

Cooking Time

25 Minutes
Ingredients
400g meatballs
400g cooked spaghetti
1 packet Knorr Italian Pasta Red Sauce
20g Astra
2 onions
2 green chillies
2 garlic cloves
1 teaspoon turmeric
1 cup yoghurt
1½ tablespoons Garam Masala Powder
150g grated cheese
A handful of chopped parsley
300ml water
Salt to taste
METHOD
Boil spaghetti, drain and set aside.
Heat 2 tablespoons of Astra in a saucepan. Add onion, garlic, chilli and sauté till translucent.
Add meatballs and sauté for a further few minutes. Mix in the Garam Masala Powder, yoghurt and turmeric.
Dilute Knorr Italian Pasta Red Sauce with water and pour into the meatball mixture. Stir constantly till the sauce thickens into a medium consistency. Season to taste.
In a separate pan melt the remaining Astra, add spaghetti and toss well to coat.
Arrange spaghetti on a plate and add meatball kuruma on top.
Sprinkle cheese and chopped parsley. Serve immediately.
Looking for quick recipes in the Indian Party Food category? This recipe is simple to make and just delicious to taste.