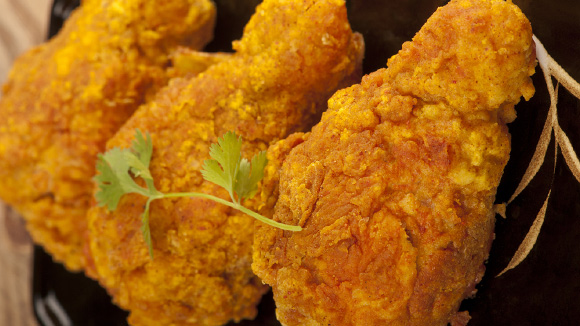 Red Hot Batter Fried Chicken Drumsticks
A crispy bite will introduce you to an unimaginable explosion of flavour infused in red hot spices.
Recipe serves:

3 to 4

Preparation Time

15 Minutes

Cooking Time

20 Minutes
Ingredients
500g of chicken drumsticks/wings
1 pkt of Knorr Italian Pasta Red Sauce
02 Knorr Chicken Cubes
3 tablespoons of Astra
150g of flour
2-3 tablespoons pepper
Water to mix
Oil to fry
METHOD
Melt Astra in a pan. Add chicken cubes and mix it in the melted Astra. Add pepper. Turn off the heat.
Marinate the chicken for 10 minutes in the sauce prepared above.
Separately mix the pasta red sauce flour by adding water gradually to form a batter of medium consistency.
Heat oil. Dip the marinated chicken in the batter and deep fry till golden brown.
Serve hot with your favorite sauce for dipping.
Chef's Tip:

To give the chicken extra flavour and texture, add 1-2 tablespoons of dried herbs to the batter or sesame seeds