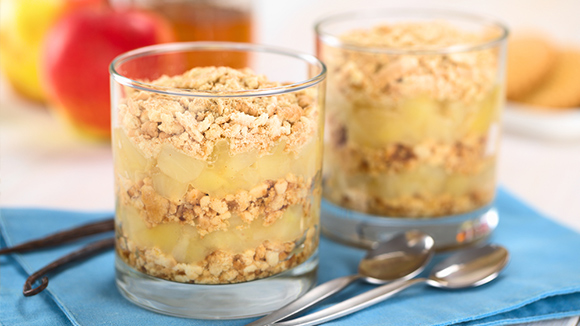 Apple Crumble
A mouth watering blend of wholesome apples with an irresistible crispiness infused into every bite.
Recipe serves:

4

Preparation Time

15 Minutes

Cooking Time

15 Minutes
Ingredients
750g Apples
100g Astra
50-75g Sugar
50g Dried brown breadcrumbs
Whipped Cream for decoration
METHOD
Peel the apples and cut into thin slices.
Cook gently in half the Astra until soft, adding sugar to taste.
Mix the sugar and breadcrumbs and cook until brown in the remaining Astra. Use a frying pan so the crumbs brown evenly.
Allow to cool in the frying pan.
Put a layer of the crisp breadcrumbs at the bottom of a bowl, then the apples, then a topping of the crumbs.
Decorate with whipped cream and serve on to the Avurudu lunch table as a wonderful dessert.
Note: For cream that is very white and light in texture, whisk thick cream lightly, then gradually whisk in a little on top of the milk.



Chef's Tip:

Use more crumbs and have a layer of crumbs in the centre. Add lemon juice and a little lemon rind to the apples.