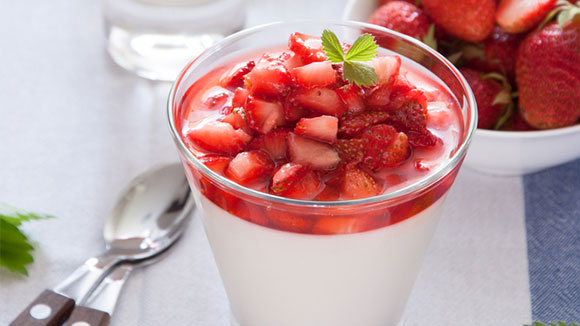 Strawberry Panna Cotta
An elegant Northern Italian dessert with a creamy melt-in-your-mouth texture, topped with red, juicy strawberries.
Recipe serves:

4-5

Preparation Time

20 Minutes

Cooking Time

20 minutes + chilling time Minutes
Ingredients
150g strawberries
250ml whipping cream
250ml milk
50g sugar
6g unflavored powder gelatin
2 teaspoons vanilla extract
200g strawberries, hulled and quartered
40g sugar to sprinkle when serving
METHOD
Sprinkle the gelatin on 1 ½ tablespoons of cold water in a small bowl. Stir and set aside for 10 minutes to allow the gelatin to dissolve.
Pour milk, 150g strawberries and vanilla into a blender and blend till it becomes a smooth purée.
Heat the cream and sugar in a medium saucepan over medium-high heat. Stir for about 3 minutes until the cream comes to a boil. Remove pan from heat and pour the cooked cream into the bowl with the softened gelatin. Stir until dissolved. Then, stir in the strawberry purée.
Pour the mixture through a fine sieve and into a bowl. Stir well.
Pour the panna cotta mixture into individual serving cups and chill in the refrigerator, preferably overnight.
Sprinkle strawberries with sugar and arrange on panna cotta with its juices before serving.
Looking for party foods/desserts which could be served to a group of at least 5 people? This recipe is as big on quantity as it is on quality.