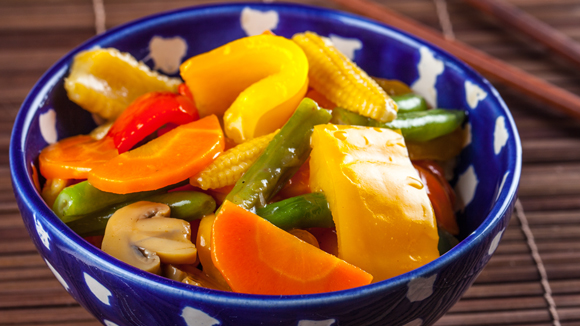 Chinese Vegetable Chopsuey
A menu-famous Chinese dish celebrated for its vibrant colours and great flavours.
Recipe serves:

2

Preparation Time

15 Minutes

Cooking Time

15 Minutes
Ingredients
1 packet Knorr Chinese Vegetable Chopsuey Recipe Mix
½ cup carrots, thinly sliced
1 cup cauliflower, cut into florets
1 cup red and yellow bell peppers, cut into chunks
½ cup green beans, cut lengthways
½ cup baby corn, cut diagonally
½ cup black fungus
200ml water
1 onion, chopped
2 garlic cloves, finely chopped
2 tablespoons Astra
Salt to taste
METHOD
Bring a pot of water to boil. Blanch cauliflower, carrots and beans. Immediately transfer into cold water, drain and set aside.
Soak black fungus in water for about 10 minutes. Drain and set aside.
Heat 2 tablespoons of Astra in a pan. Add onions and garlic and sauté till a little soft.
Add bell peppers, baby corn and black fungus and sauté for a further 2 minutes.
Dilute Knorr Chinese Vegetable Chopsuey Recipe Mix with 200ml water. Pour into the vege mixture. Cook till sauce is thick.
Serve hot.
Remember, 30 minute quick recipes like this one leaves you with less time in the kitchen and more time with your family!