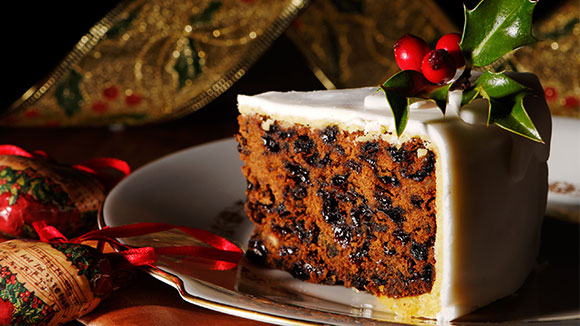 Christmas Cake
A delicate blend of dark fruity flavours with a perfected technique passed down by international pastry chefs.
Recipe serves:

20

Preparation Time

Minutes

Cooking Time

3 to 3½ Hours Minutes
Ingredients
450g glacé cherries
225g candied mixed peel
300g sultanas
150g dried currants
175g dates, pitted and chopped
125g blanched almonds, chopped
120ml brandy
4 tablespoons plain flour
250g plain flour
½ teaspoon baking soda
1 tsp ground cloves
1 teaspoon ground allspice
1 teaspoon ground cinnamon
½ teaspoon salt
225g Astra
450g brown sugar
6 eggs
175ml treacle
175ml apple juice
METHOD
In a medium-sized bowl combine cherries, citrus peel, sultanas, currants, dates and almonds. Stir in brandy. Let it stand for 2 hours or overnight. Then dredge soaked fruit with 4 tablespoons of flour.
Pre-heat oven to 1400C/gas mark 1. Grease a 20cm (8 inch) round cake tin, line with baking parchment and grease again. Then in a small bowl mix together 250g flour, baking soda, cloves, allspice, cinnamon and salt. Set spice mixture aside.
In a large bowl, cream Astra until light and gradually blend in brown sugar and eggs. Mix together black treacle and apple juice in another bowl. Then, beat the liquid into the butter mixture, and separately with the spice mixture, making 4 dry and 3 liquid additions. Fold in floured fruit. Turn batter into prepared tin.
Bake in pre-heated oven for 3 to 3 1/2 hours, or until a skewer is inserted into the centre of the cake and it comes out clean. Lastly, remove cake from tin and lift off paper. Cool cake completely, then wrap loosely in greaseproof paper.
Store in an airtight container.
Looking for Christmas recipes / seasonal recipes and ideas for party foods? This well-known and well-loved recipe is a staple for any Christmas celebration.