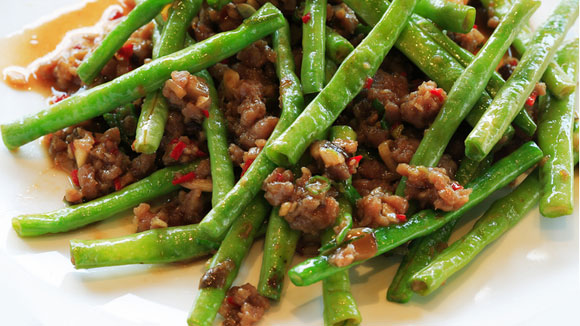 Stir Fried Beef with Green Beans
A renowned Asian delight with vibrant colours as well as flavours, this robust stir-fry features chewy beef with crisp green beans topped with spring onions.
Recipe serves:

4

Preparation Time

20 Minutes

Cooking Time

30 Minutes
Ingredients
500g beef, cut into slices and lightly seasoned
2 cups green beans, cut length-wise
1 sachet Knorr Chicken Powder Mix
50ml vegetable oil
1 medium onion, chopped
50g spring onions, cut into strips
2 cups water
15g corn flour
1 teaspoon chilli powder to taste
Salt and crushed pepper to taste
METHOD
Heat the oil in a heavy pan over moderately high heat, until hot but not smoking.
Place and brown the beef in batches. Keep turning for about 5 minutes per batch. Transfer the browned beef into a large bowl.
Add onion and beans. Sauté for about 8 minutes until the onions are softened.
Mix water with the corn flour and pour it into the pan, stirring occasionally until the mixture comes together as it boils.
Add the entire bowl of beef along with accumulated juices and Knorr Chicken Powder Mix into the pan. Simmer, partially covered, until beef is cooked through.
Stir in chilli powder and salt to taste. Garnish with spring onions and serve with rice.
Add this winner to your Easy Recipes List and take it along for any Potluck Dinner Party!



Chef's Tip:

Cut the beef into thin slices to make the cooking process faster.