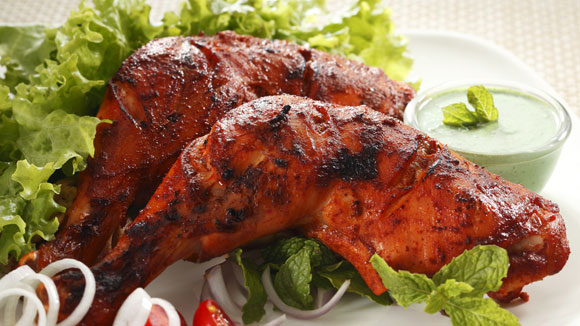 Quick Tandoori Chicken
Delectable chicken rubbed with the rich spices and piquant flavours of India.
Recipe serves:

4

Preparation Time

10 Minutes

Cooking Time

20 Minutes
Ingredients
4 whole chicken legs
4 garlic cloves, chopped
1 packet Knorr Chinese Chilli Recipe Mix
1 tablespoon ground coriander
1 tablespoon ground cumin
1 tablespoon ground turmeric
1 tablespoon sweet paprika
1 cup plain yoghurt or curd
2 tablespoons lemon juice
3 tablespoons oil
2 tablespoons fresh ginger, chopped
½ teaspoon red food colouring
Salt to taste
METHOD
Heat oil in a pot. Add garlic, ginger, coriander, cumin, turmeric, Knorr Chinese Chilli Recipe Mix, paprika and red food colouring. Cook until fragrant.
Cut deep slashes in 3-4 places on the chicken legs and add it into the pot. Cover with a lid and cook for 10 minutes.
Lift off the lid, mix in lemon juice and yoghurt and cook till the chicken is done and slightly dry.
Quick recipes like these are a time-saving life changer! All you need is chicken, a handful of spices and 30 minutes in the kitchen!



Chef's Tip:

Alternatively, if you own a grill or an electric oven you may use it to roast the chicken. Simply roast it for 20 minutes at 200°C.