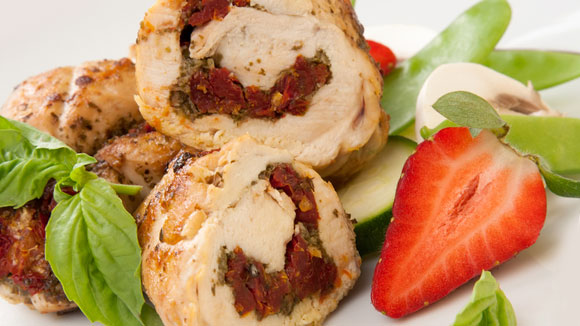 Honey Glazed Chicken Roulade with Pan Gravy
Moist chicken roulade brushed with bees honey and served with its own delectable pan gravy.
Recipe serves:

4 to 5

Preparation Time

20 Minutes

Cooking Time

30 Minutes
Ingredients
1 boneless chicken breast
1 packet Knorr Italian Pasta Red Sauce
250g chicken sausage, removed from casing
150g bacon, finely chopped
1 cup cashew nuts, coarsely chopped
½ cup fresh parsley
½ cup bees honey
½ cup water
2 tablespoons Astra
½ teaspoon Turmeric
½ teaspoon chilli powder
Salt and black pepper
Oil
Kitchen twine
METHOD
Heat a pan and add 1 tablespoon of Astra. Then add sausage meat, bacon and cashew nuts. Sauté for a few minutes.
Dilute Knorr Italian Pasta Red Sauce with ½ cup water and pour it into the above mixture. Cook until the stuffing becomes thick.
On a cutting board, place the chicken breast with the skin-side down. Flatten it with your hands. Mix Astra, turmeric, 1/4 of honey and chilli powder together and rub the meat with it. Season with salt and pepper, then drizzle with oil to moisten.
Spread the stuffing on top of the chicken and roll the chicken around in it. Wrap kitchen twine around chicken and tie tightly.
Pre-heat oven at 200°C.
Place the chicken breast in a baking dish and brush it with honey. Reduce heat to 180°C and bake for 30-35 minutes. Brush 3-4 times with honey during the baking process.
Let it rest for 10 minutes then snip off kitchen twine. Slice the chicken and arrange decoratively on a serving platter. Pour pan gravy over the slices and serve.
Looking for festive Christmas Recipes and delicious Chicken Recipes? This dish is a fusion of both.



Chef's Tip:

Simple pan gravy to accompany the chicken roulade with, which is made by its own juices and chicken stock:
Melt 2 tablespoons of Astra in a pan. Add 3 tablespoons of flour and quickly cook to make a roux. Dilute 1 Knorr Chicken Cube with 2-3 cups of boiling water and pour it into the flour mixture. Gradually add 1 ½ cups of the pan gravy and cook till sauce becomes thick. Season to taste and serve with the Chicken Roulade.