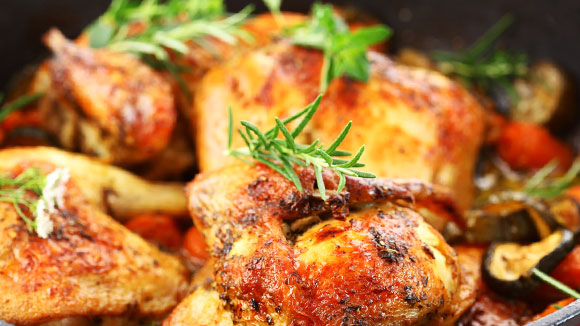 Extra Spicy Pot-roasted Soy Chicken
Fiery and succulent pot-roasted soy chicken basting in its own juices.
Recipe serves:

3 to 4

Preparation Time

10 Minutes

Cooking Time

20 Minutes
Ingredients
5-6 pieces chicken, preferably bone-in
½ cup soy sauce
3 tablespoons sugar
2 tablespoons crushed pepper
2 sachets Knorr Chicken Powder Mix
1 teaspoon turmeric
1 tablespoon chilli powder
10 ml oil
Salt to taste
METHOD
In a bowl combine all the ingredients together and mix well.
Pour the chicken and its marinade into a clay pot or a deep nonstick pan.
Cover and cook for 10 minutes while turning the chicken over frequently.
When the chicken is halfway cooked, lift off the lid and let it brown while cooking in its own juices.
Serve hot.
Brilliant, easy recipes like these are not only a time-saver but a gastronomic pleasure as well!



Chef's Tip:

When serving the chicken use the remaining marinade in the pot to make a sauce; simply add ½ cup of water to the remaining marinade and reduce it to a moderate consistency. Then serve it with your chicken.