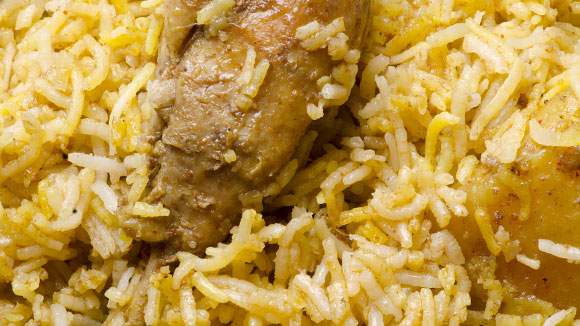 Easy Chicken Biriyani
Experience the aromatic pull of a homemade chicken biriyani wafting through your kitchen.
Recipe serves:

6 to 7

Preparation Time

15 Minutes

Cooking Time

30 Minutes
Ingredients
1 kg long grain / samba rice
1 kg chicken
3 onions, sliced
2 tablespoons ginger, chopped
2 tablespoons garlic, chopped
2-3 green chillies, sliced
100g tomato
3 Knorr Chicken Cubes
1 tablespoon turmeric
1 tablespoon pepper
1 tablespoon chilli powder
2 tablespoons sweet cumin
5-6 cardamom seeds
5-6 cloves
1 stick of cinnamon
1 cup coriander leaves
Salt to taste
1 cup yoghurt or curd
1 cup thick coconut milk
Rampe and curry leaves
Oil
METHOD
Add rampe, 2 Knorr Chicken Cubes and water into a pot with raw rice. Cook till the rice is done.
Meanwhile melt Astra in a pan and add onion, ginger, garlic, cumin seeds, cinnamon stick, cardamom and cloves. Sauté till fragrant.
Add the chicken and sauté for 1 minute then add all the other ingredients except for the coriander leaves.
Correct seasoning and mix the spice mixture into the cooked rice along with the coriander leaves. Mix well to combine.
Cover with a lid and leave for 5 minutes. Serve hot.
Looking for spice-rich chicken recipes with rice? Look no further.



Chef's Tip:

As a second method or to enhance the flavour of the biriyani, add the chicken mixture into the raw rice and cook everything together until done.