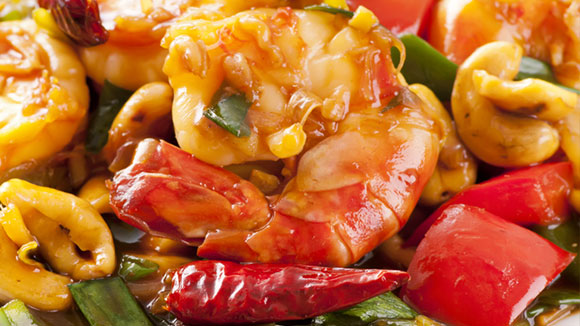 Sweet & Sour Prawns with Mushrooms and Roasted Cashew Nuts
Prawns with a delicate sweet and sour tang topped with spicy stir-fried mushrooms and roasted cashew nuts.
Recipe serves:

4

Preparation Time

30 Minutes

Cooking Time

10 Minutes
Ingredients
500g lagoon prawns, cleaned with the tail intact
1 packet Knorr Chinese Sweet & Sour Recipe Mix
2 tablespoons vegetable oil
1 tablespoon red raw chillies, cut in strips
1 tablespoon grated fresh ginger root
1/4 cup roasted cashew nuts
2 tablespoons soy sauce
2 cups button or oyster mushrooms, roughly sliced
2 large onions, sliced
2 cups water
½ cup spring onion leaves roughly chopped
1 large tomato, cubed
Salt and crushed pepper to taste
METHOD
Heat oil on medium heat in a heavy-bottomed saucepan.
Add prawns, red chilli, mushrooms and ginger.
Stir-fry for about 4-5 minutes until prawns are done.
Add water and Knorr Chinese Sweet & Sour Recipe Mix, bring to boil and simmer for a few minutes.
Add cashew nuts and soy sauce.
Add more seasoning if necessary and toss with tomatoes and spring onions.
Serve with steamed rice.
Use quick recipes like this with fresh seafood to make delicious and easy to cook meals that can be served for lunch or dinner.