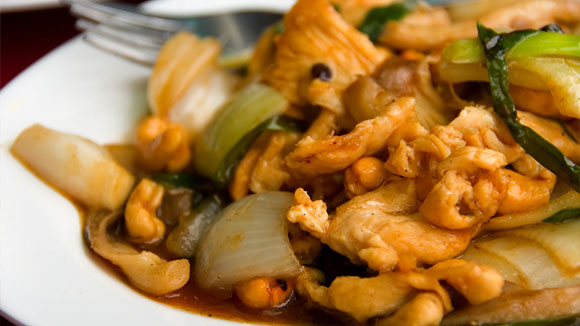 Ginger Chicken and Cashew Stir Fry
Savoury ginger chicken with a hint of sweetness to it served in stir-fried cashew and fresh peppers.
Recipe serves:

3 to 4

Preparation Time

20 Minutes

Cooking Time

15 Minutes
Ingredients
500g chicken breasts, sliced or diced
10ml vegetable oil
3 tablespoons of finely crushed ginger
1 large onion, diced
Spring onion leaves, cut into 1 inch pieces
Red, green and yellow peppers, de-seeded and diced
100g cashew nuts
1 packet Knorr Chinese Chilli Recipe Mix
1 cup water
1 tablespoon sugar
Salt and crushed pepper to taste
METHOD
Season chicken with salt and pepper.
Heat oil in a wok or heavy-bottomed saucepan. Add chicken and ginger, stir fry till slightly brown.
Add the onions, peppers, cashews and stir fry for a further 3-4 minutes.
Add water, Knorr Chinese Chilli Recipe mix and sugar. Bring to boil and simmer for 5 minutes. Correct the seasoning.
Sprinkle spring onion leaves and take off from heat. Serve with rice or noodles.
Looking for a combination of quick recipes with deliriously good chicken recipes? We have your cooking guide right here.



Chef's Tip:

Add a Knorr Chicken Cube or 1 sachet of Knorr Chicken Powder Mix when seasoning the chicken to enhance its flavour.