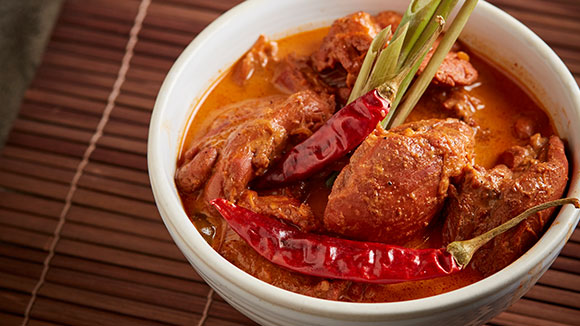 Thai Red Chicken Curry
Tender, bite size chicken pieces in a spicy red coconut curry infused with selected spices and herbs.
Recipe serves:

5

Preparation Time

15 Minutes

Cooking Time

20 Minutes
Ingredients
500g chicken cut on the bone
1 packet Knorr Nasi goreng Mix
2 tablespoons Chicken Curry Mix
½ onion, chopped
3 cloves garlic, chopped
1 teaspoon ginger, chopped
Lemon grass chopped/sliced
1-2 red chilies, sliced
1 cup thick coconut milk
2 tablespoons Astra
100ml water
1 tablespoon lime juice
1 tablespoon chili powder
METHOD
Melt Astra in a pot. Add ginger, garlic, lemongrass and sauté till fragrant.
Next add chicken, Knorr Nasi goreng Mix, Knorr Chicken Curry Mix, chili powder and sauté for 2 minutes.
Finally, add the water, coconut milk and bring to boil. Let chicken cook well. Add the red chili, lime juice and serve hot.
Chef's Tip:

Add a handful of coriander leaves for a boost in flavour.