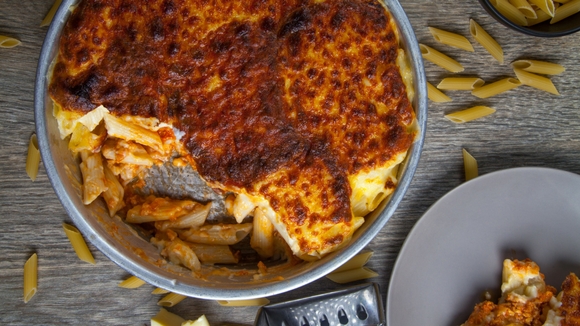 Pastitsio (Greek lasagna)
Layered pasta, meaty tomato sauce with selected spices. This classic dish is topped with creamy white sauce and cheese. Rich, flavour packed dish for the whole family.
Recipe serves:

6-7

Preparation Time

30 Minutes

Cooking Time

40 Minutes
Ingredients
500g minced chicken
500g cooked pasta, preferably tube shaped
2 Knorr Chicken Cubes
1 cup tomato puree
2 tablespoons, tomato sauce
1 teaspoon, chili powder
1 teaspoon, pepper powder
100g Astra
1 bay leaf
4 eggs beaten
2 large B onions, chopped
2 cloves garlic, chopped
Salt to taste
200g parmesan cheese
2 cups, white sauce
METHOD
Melt half of the Astra, add garlic and onion. When fragrant, add the minced chicken. Sauté for a minute, add the bay leaf, Knorr Cubes, tomato puree, sauce, chili and pepper powder. Bring to boil and set aside.
In a separate bowl, add the beaten eggs to the cooked pasta and mix well to coat.
In a bakeware, spread a spoonful of the meat mixture on the bottom, then place a layer of pasta. Place another layer of meat and then pasta and pour the white sauce on top to finish. Sprinkle with cheese.
Bake in a pre-heated oven for 30 minutes at 200o C
Serve hot.
Chef's Tip:

Make the chicken mixture a bit juicy to retain the moisture.