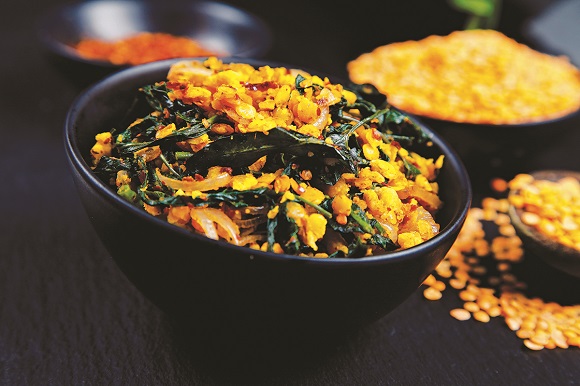 Devilled Dhal and KangKung
Delicious tempered kangkung like you have never experienced it before! Combined with dhal, this dish is sure to tantalize those taste buds with taste and texture.
Recipe serves:

6

Preparation Time

10 Minutes

Cooking Time

20 Minutes
Ingredients
150gms Dhal
1 Onion finely sliced
3 Cloves Garlic sliced finely
1 Teaspoon Turmeric
1 Teaspoon Chili Powder
1 Inch piece of Rampe Leaf
1 Sprig Curry Leaves
2 Green Chilies finely sliced
2 Knorr Cubes
3 Tablespoons chilie pieces
2 Tablespoons Astra
2 Cups Kangkung chopped in big pieces
Water
METHOD
Into a pan add the dhal, turmeric and chili powder and just enough water to cover the dhal and boil. Once the water evaporates, add the Knorr cube and mix well.
In a separate pan, melt the Astra and temper together the onion, garlic, rampe, curry leaves and green chilies. Add the Kangkung and chilies pieces and temper well.
Next add the boiled dhal mixture to this and cook through. Serve hot.
Chef's Tip:

Do not over boil dhal as it will mash while mixing