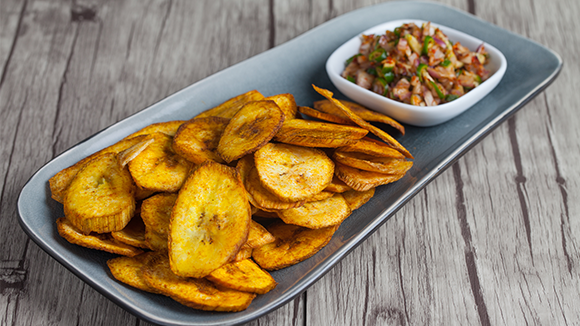 Plantain chips with spicy onion salsa
Thin and crunchy plantain chips together with a colourful tangy salsa. An easy to make, exotic appetizer for the whole family!
Recipe serves:

3-4

Preparation Time

20 Minutes

Cooking Time

25 Minutes
Ingredients
4-5 Ash plantains
1 teaspoon turmeric
1 teaspoon paprika powder
1 onion, chopped
1 green chili chopped
1 sachet, Knorr Maldive Fish Powder Mix
½ green cucumber, diced into small pieces
½ lime, juiced
Salt to taste
Oil to fry
METHOD
Slice the plantains at a slight angle to form a lengthy cut. Add turmeric. Mix well and deep fry in oil till golden brown.
Add a bit of salt and paprika powder and toss well.
Mix the remaining ingredients together to make the salsa mixture. Serve with the plantain chips.
Chef's Tip:

You can use cassava (manioc), sweet potato and beet root to prepare chips in a similar way