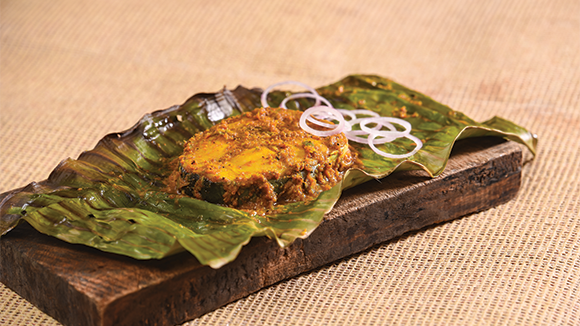 Baked Fish in Banana Leaf
This mouthwatering dish is sure to turn any die hard meat eater into a proper fan of fish. The flavor packed marinade in this recipe adds layers of amazing flavor to the fish while the banana leaf keeps the fish soft and succulent.
Recipe serves:

2

Preparation Time

15 Minutes

Cooking Time

15 Minutes
Ingredients
2 slices of Tuna or Seer Fish
2 pkt. Knorr Maldifish Powder Mix
2 Onions
3 Green Chilies
1 tbsp. Chili Powder
½ tsp Turmeric powder
1 tsp. Astra
Salt to taste
Banana leaf to wrap
METHOD
Grind together the onion, garlic, green chili, chili powder, turmeric, Knorr maldifish powder mix, Astra and salt into a smooth paste.
Marinade the fish with the above paste and leave aside for few minutes.
Now carefully wrap the slices of fish in the banana leaf and secure with toothpicks.
Place in a baking tray and bake for 20-25 minutes at 200c in an oven.
Remove toothpicks and serve with the banana leaf.
The best part about this dish is opening the banana leaf and breathing in all the amazing flavor created by the spices.

Chef's Tip:

For more flavor, marinade the fish for longer. When marinating for longer periods, keep the fish/meat refrigerated and covered.