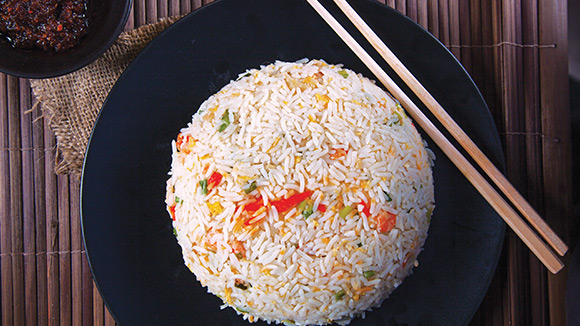 Chinese Fried Rice
Aromatic wok-fried egg rice featuring fresh and juicy shrimp sautéed in fiery flavours.
Recipe serves:

4

Preparation Time

20 Minutes

Cooking Time

10 Minutes
Ingredients
400g long grain rice, cooked
1 bell pepper, thinly sliced
3 eggs
2 teaspoons sesame oil
3 tablespoons Astra
1 Knorr Chicken Cube
3 onions, thinly sliced
1 cup shrimp
2 garlic cloves, crushed
1 long red chilli, finely chopped
2 tablespoons soy sauce
1 tablespoon oyster sauce
Salt and pepper to taste
METHOD
Combine eggs and half of the sesame oil in a jug. Heat a wok over high heat and add 1 tablespoon of Astra. Swirl to coat and add the egg mixture. Quickly stir to scramble.
Add garlic and onion into the wok and stir-fry for 2 to 3 minutes or until they become translucent. Add
shrimp and chilli. Stir-fry until fragrant. Next, add the Knorr Chicken Cube and stir to dissolve.
Add rice, soy sauce, oyster sauce and remaining sesame oil. Then, add bell pepper and stir-fry for 2 minutes or until it is heated through.
Serve hot.
Hunting for delicious quick recipes / easy recipes for seafood fried rice? This Chinese fried rice recipe doesn't disappoint.



Chef's Tip:

To enhance the colour of your dish and make it more visually appealing, just add tri-colour bell peppers cut julienne.