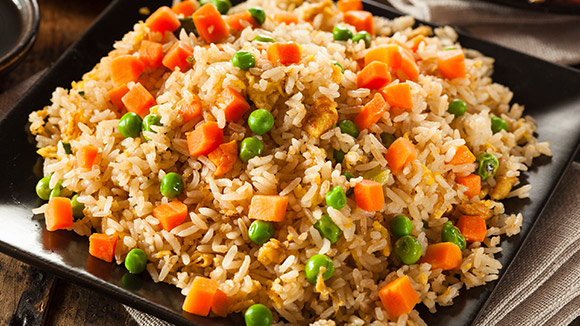 Chicken Fried Rice
Moist and fluffy chicken fried rice with a ginger garlic vegetable stir-fry.
Recipe serves:

4

Preparation Time

15 Minutes

Cooking Time

10 Minutes
Ingredients
500g basmati or samba rice, cooked
250g boneless chicken, cut into small cubes
50g carrot, julienned
50g leeks, julienned (green part)
50g leek stalk, julienned
1 Knorr Chicken Cube
3 eggs, beaten
1 onion, chopped
2 garlic cloves, chopped
1 inch ginger, chopped
20g Astra
Salt and pepper to taste
METHOD
Melt Astra in a pan and add onion, garlic and ginger. Sauté till fragrant.
Scramble the eggs in a separate pan and set aside.
Add chicken, a pinch of salt and pepper and cook for a few minutes.
Add carrot, leeks, leek stalk and Knorr Chicken Cube. Quickly stir-fry the vegetables for 2 minutes.
Add cooked rice and scrambled eggs. Mix well and serve hot.
This scrumptious quick recipe is easy to make and delicious to serve!



Chef's Tip:

For a tastier flavour, season the chicken pieces with Knorr Chicken Powder Mix.