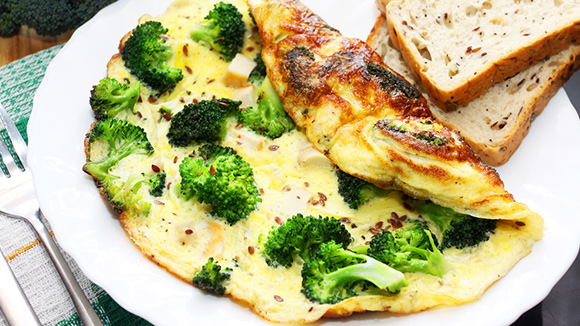 Broccoli and Cheese Omelette
Fresh broccoli florets on a thick and cheesy omelette bed, complimented with bread.
Recipe serves:

2

Preparation Time

15 Minutes

Cooking Time

20 Minutes
Ingredients
3 eggs
150g broccoli, cut into florets and steamed
1 sachet Knorr Chicken Powder Mix
50g mozzarella cheese, grated
1 tablespoon Astra
Salt and pepper to taste
METHOD
Separate egg yolks and egg whites. Beat the whites till peaks form and set aside.
Mix together egg yolks and Knorr Chicken Powder Mix. Correct seasoning to your taste.
Fold in the whisked egg whites carefully.
Heat a pan and melt Astra on a low flame.
Pour in the egg mixture and sprinkle cheese on top.
Arrange steamed broccoli florets on the cheese and cook on a low flame till cheese melts.
Serve hot with your choice of bread.
Looking for quick recipes to make breakfast or brunch? Easy recipes like these are definitely a keeper.



Chef's Tip:

Steam the broccoli florets in advance as it doesn't get enough time to cook in the omelette. For a perfect texture just retain the crispness in the broccoli while steaming.