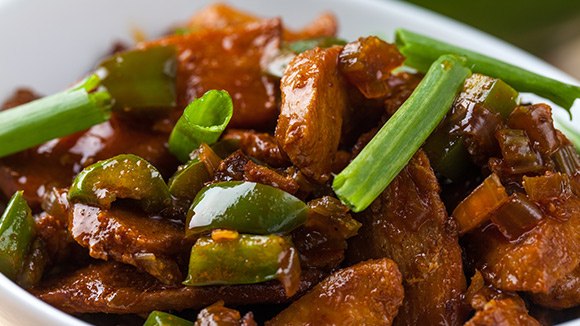 Brown Dry Chicken Fry with Greens
Artfully pan-seared chicken with crispy fried greens, best accompanied with a bowl of rice.
Recipe serves:

6

Preparation Time

20 Minutes

Cooking Time

30 Minutes
Ingredients
1kg chicken, cut into serving pieces and slightly seasoned
2 sachets Knorr Chicken Powder Mix
50ml vegetable oil
1 medium-sized onion, chopped
1 medium-sized green bell pepper, chopped
Few green beans, cut into 1 inch pieces
50g whole cashews
100g spring onions, cut into strips
100g celery, chopped
3 cups water
30g corn flour
1 teaspoon chilli powder to taste
Salt and crushed pepper to taste
METHOD
Heat the oil in a heavy-bottomed pan, over moderately high heat, until hot but not smoking.
Place and brown the chicken in 4 batches; keep turning for 5 minutes per batch and transfer when brown into a large bowl.
Add onion, bell pepper, beans and celery. Cook for about 8 minutes, scraping back occasionally until onion is softened.
Mix water with corn flour and pour it into the vegetable mixture, stirring occasionally until the mixture comes together as it boils.
Add the browned chicken, Knorr Chicken Powder Mix and any juices accumulated in the bowl. Then simmer, partially covered, until chicken is cooked for about 30 to 35 minutes.
Lastly stir in chilli powder, cashews, spring onion and salt (to taste) and serve with rice.
A vege and quick chicken recipe like this makes a delightful addition to any dinner table!