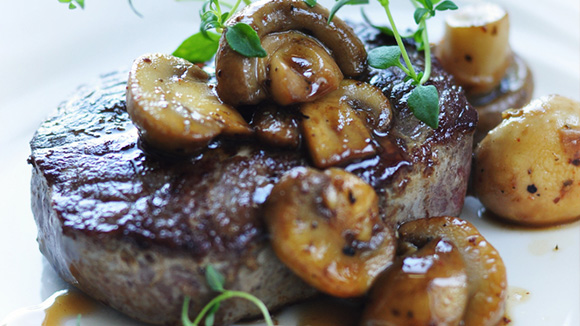 Grilled Fillet Steak with Mushrooms and Leek Stew
Thick cuts of tender steak with a delicate burst of citrus in a hearty mushroom and leek stew. This makes a beautiful comfort meal on a cold day.
Recipe serves:

4

Preparation Time

20 Minutes

Cooking Time

15 Minutes
Ingredients
4 leeks washed, trimmed and cubed
2 garlic cloves, peeled and finely chopped
1 onion, chopped
2 tablespoons olive oil
1 tablespoon Astra
2 cups white wine
2 Knorr Chicken Cubes
200g whole button mushrooms, pan fried
1 tablespoon parsley, finely chopped
1 tablespoon fresh cream
Salt and ground black pepper to taste
800g fillet steaks, cut into 1-1½ inch thick slices
Juice of 1 orange
METHOD
Sweat the leeks, onion and garlic with a splash of olive oil and Astra in a heavy-bottomed saucepan on low heat for 20 minutes, until they are soft and sweet. Turn up the heat and add the white wine.
Let the wine come to a boil and then toss in mushrooms. Allow it to gently simmer for 5 to 10 minutes.
Add the parsley, fresh cream, Knorr Chicken Cubes and simmer for another few minutes. Adjust seasoning if needed.
Whether it's an impromptu dinner party or a simple family dinner, easy recipes like these are your secret weapon for talked about meals!