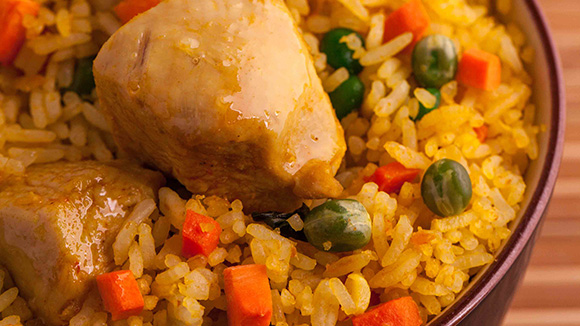 Chicken Pulao
If you love Biriyani, you'll love chicken pulao! This Indian delicacy features soft chicken with a spicy pull and handpicked herbs & spices in fragrant Basmati rice.
Recipe serves:

4

Preparation Time

20 Minutes

Cooking Time

30 Minutes
Ingredients
500g Basmati Rice
500g boneless chicken
150g carrots, diced
100g green peas
2 onions, cut lengthwise
2-3 chillies, cut lengthwise
1 tomato, cut into small pieces
2 Knorr Chicken Cubes
A handful of coriander leaves, chopped
A handful of mint leaves
2 cups yoghurt
3 tablespoons Astra
2 garlic cloves
1 inch piece ginger
3-4 cloves
2-3 cardamoms
1 bay leaf
1 cinnamon stick
METHOD
Cook rice separately and set aside.
Melt Astra in a pan. Fry bay leaves, cloves, cardamom and cinnamon.
Add onions and chillies and fry on low heat until onions turn brown. Add ginger and garlic. Fry until fragrant.
Then add tomato, carrots, green peas and fry for 1 minute.
Add the chicken, Knorr Chicken Cubes and yoghurt. Fry for another few minutes. Add mint leaves.
Cover and cook until the gravy becomes semi-solid, then mix in cooked rice and coriander leaves.
Remove the bay leaf before serving.
This Indian chicken and veg party food recipe is the perfect substitute for Biriyani!