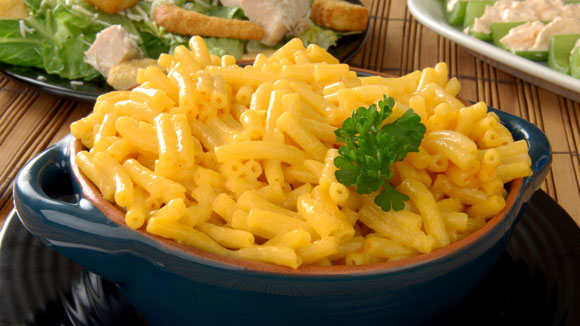 Creamy Macaroni and Cheese
Decadent macaroni and cheese in a creamy white sauce garnished with a sprig of parsley.
Recipe serves:

4

Preparation Time

15 Minutes

Cooking Time

20 Minutes
Ingredients
400g cooked macaroni
1 onion, chopped
2 garlic cloves, chopped
150g grated cheese
2 tablespoons Astra
1 packet Knorr Italian Pasta White Sauce
300ml milk
Salt and white pepper to taste
A sprig of parsley to garnish (optional)
METHOD
Melt Astra in a saucepan, add onion and garlic. Sauté till translucent.
Add macaroni and stir for 2 minutes.
Dilute Knorr Italian Pasta White Sauce with milk and pour it into the saucepan. When the sauce thickens mix in the grated cheese and stir well.
Remove from heat and do not let the sauce dry out. Serve hot.
Looking for quick recipes for kids' food? This all time favourite will leave your kids with empty bowls and full tummies!



Chef's Tip:

Always remember to cook macaroni in ample amounts of water, as the water will dilute the starch from the macaroni and prevent it from getting sticky.
Recipes