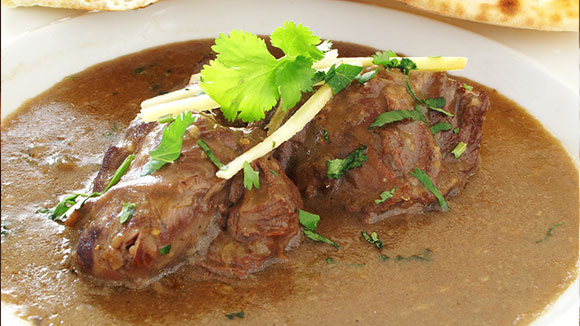 Mutton with Spicy Pumpkin Sauce
Succulent pieces of mutton drenched in a spicy and flavour-intense pumpkin sauce.
Recipe serves:

4

Preparation Time

60 Minutes

Cooking Time

15 Minutes
Ingredients
350g mutton, cubed
50g onions
1 tablespoon celery, chopped
1 tablespoon olive oil
2 teaspoons vinegar
1 ½ cups water
1 Knorr Chicken Cube
2 tomatoes
½ teaspoon cumin seeds
1 teaspoon coriander seeds
2 garlic cloves
2 teaspoons chilli powder
Salt and pepper to taste
Ingredients and method for Spicy Pumpkin Sauce
1 potato
150g pumpkin
½ teaspoon nutmeg
½ teaspoon ground cumin seeds
Salt and pepper to taste
1 Packet Knorr Chinese Chilli Recipe Mix
1 tablespoon Astra
Boil and mash pumpkin and potatoes. Then add 1 cup water, Knorr Chinese Chilli Recipe Mix, salt and pepper, grated nutmeg, cumin seeds and Astra. Cook till it becomes a thick sauce then turn off the heat.
METHOD
Grind cumin seeds, coriander, garlic cloves and pepper together.
Coat mutton with above paste and season with salt and pepper. Leave to marinate for 1 hour.
Add water, Knorr Chicken Cube and chilli powder with the marinated meat in a saucepan and boil till the meat is tender.
Next, add chopped tomatoes and onions and allow it to simmer.
Use a separate pan to stir fry the celery. Add the mutton mixture, vinegar and olive oil and stir. Take the pan off the heat once done.
Serve mutton with spicy pumpkin sauce.
At Home or at a Party, Mutton is always a sure favourite! Easy Recipes like these will make your food the talking point all night!



Chef's Tip:

Steam the pumpkin and potato, instead of boiling it, to retain its flavour and nutritional value.