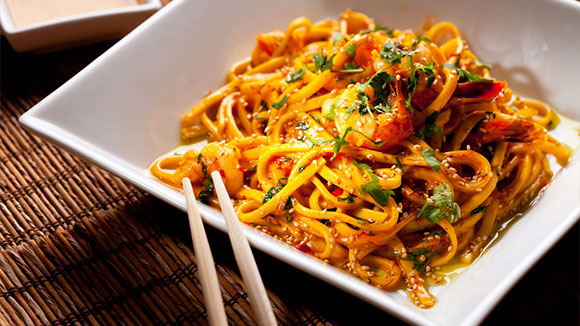 Stir-Fried Noodles
Steaming stir-fried chicken noodles with fresh vegetables, topped with roasted sesame seeds.
Recipe serves:

4

Preparation Time

30 Minutes

Cooking Time

20 Minutes
Ingredients
200g noodles
250g boneless chicken
1 packet Knorr Chinese Chillie Recipe Mix
2 cups water
1 big onion
2 cloves garlic
150g carrots
100g leeks
1 ½ teaspoons corn flour
Salt and pepper to taste
10ml oil
1 tablespoon sesame seeds, roasted
1 sprig of mint leaves
20g Astra
METHOD
Pour boiling water over noodles and add salt and olive oil. Cover for 3 minutes for the flavours to infuse. Then strain and wash in running water.
Grind onion and garlic with salt and pepper till it becomes a paste.
Cut boneless chicken into small pieces, coat it with your paste and marinate for 20 minutes.
Heat oil in a wok and add marinated chicken. Sauté for a few minutes. Then add water, Knorr Chinese Chilli Recipe Mix and stir fry. Cook on medium heat till sauce starts bubbling.
In a separate pan melt Astra, and then add carrot and leeks. Correct the seasoning if needed. Add noodles and mix well. Finally add the chicken mixture and stir well.
Sprinkle finely chopped mint leaves and roasted sesame seeds. Serve hot.
Chef's Tip:

Add 1 packet of Knorr Chicken Powder Mix when marinating the chicken to enhance the flavour.