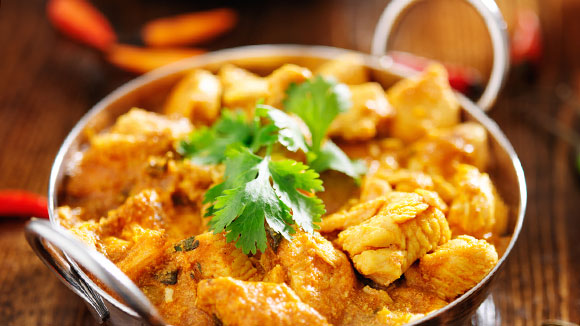 Curried Chicken in Coconut Gravy
Tender and juicy chicken with a fiery touch of spiciness to it, in a rich and creamy coconut gravy.
Recipe serves:

4

Preparation Time

10 Minutes

Cooking Time

20 Minutes
Ingredients
500g chicken, cut into medium-sized pieces
1 onion, chopped
2 garlic cloves, chopped
2 green chillies, sliced
1 tablespoon chilli powder1 Knorr Chicken Cube
1 packet Knorr Chinese Chilli Recipe Mix
2 tablespoons Astra
1 cup thick coconut milk
2 cups water
Rampe and curry leaves
Salt & pepper to taste
METHOD
Melt Astra in a pan and add chopped onion, garlic, green chillies, rampe and curry leaves.
When fragrant add chicken, Knorr Chicken Cube and chilli powder. Cook till chicken is tender.
Dilute Knorr Chinese Chilli Recipe Mix in water and pour it into the pan. Then pour in the thick coconut milk.
Cook till the desired consistency. Season to taste and serve hot.
Easy recipes for dinner just got easier! Make this beautiful and fragrant dish in just 30 minutes.



Chef's Tip:

Try something new! Substitute Knorr Chinese Chilli Recipe Mix with Knorr Chinese Sweet & Sour Recipe Mix or Knorr Italian Pasta Red Sauce to experiment with different flavours!