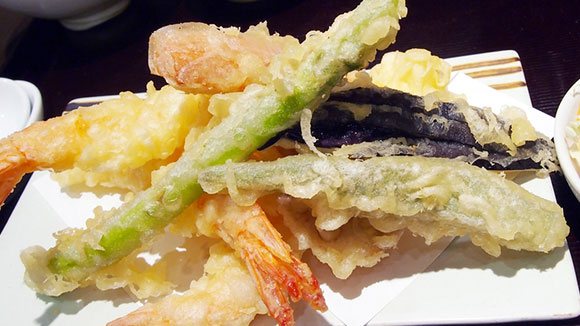 Vegetable & Prawn Tempura
A light and crispy Japanese all-time favourite complimented with a dipping sauce.
Recipe serves:

4

Preparation Time

20 Minutes

Cooking Time

15 Minutes
Ingredients
200g medium prawns, de-veined with tail
100g carrots
100g capsicum
100g brinjal
Tempura Batter
Ingredients for Tempura Batter
150g gram flour
100g white flour
½ teaspoon baking powder
Salt
½ teaspoon turmeric
Oil for deep-frying
1 packet Knorr Chinese Vegetable Chopsuey Recipe Mix
1 ½ cups water
1 teaspoon corn flour
METHOD
Cut carrots, capsicum and brinjal lengthwise into sticks.
Make a thick tempura batter using gram flour, white flour, Knorr Chinese Vegetable Chopsuey Recipe Mix, baking powder, corn flour, salt and turmeric. Mix into a batter with water.
Dip the vegetables and prawns into your tempura batter and deep fry in a pan or large wok.
Serve immediately with a dipping sauce of your choice.
Chef's Tip:

Looking for quick recipes to make appetizers and quirky party foods? Look no further.