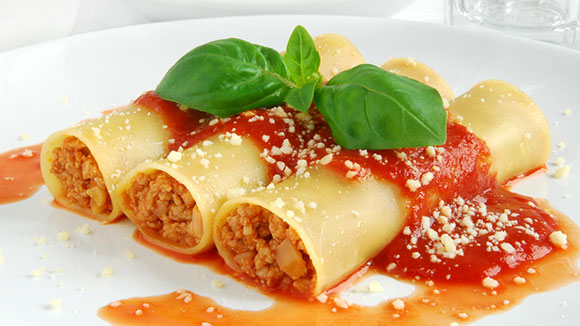 Stuffed Roast Vegetable Cannelloni
Oven-roasted vegetables embedded in cannelloni, baked to perfection and served with cheese and a shawl of red sauce.
Recipe serves:

4

Preparation Time

20 Minutes

Cooking Time

60 Minutes
Ingredients
200g cannelloni tubes
1 packet Knorr Italian Pasta Red Sauce
200g pumpkin, peeled and cut into 1 inch pieces
1 green bell pepper, chopped
1 small zucchini, chopped
100g mushrooms, chopped
2 onions, chopped
4 garlic cloves, chopped
200g cooked rice
80g grated cheese
2 tablespoons olive oil
400ml water
METHOD
Pre-heat oven to 180° C, 300° F or 4 gas marks, for 3-4 minutes.
Grease oven-proof dish. Combine all the vegetables with olive oil, season well and arrange on the dish.
Bake for 20 minutes then let it cool for 10 minutes. Mix with rice and half of the cheese.
Fill cannelloni with the mixture.
Mix Knorr Italian Pasta Red Sauce with water in a pan and heat till the sauce starts boiling.
Pour some sauce into the oven-proof dish. Arrange the cannelloni in the same dish and pour remaining sauce over it. Then sprinkle balance cheese on top.
Cover with a foil and bake for 25-30 minutes.
Serve hot.
Take advantage of this easy recipe for Kids' Food! This recipe is a good idea for Party Foods as well- simple to make and delicious to serve!



Chef's Tip:

Pour the red sauce over the cannelloni when it's boiling, as the sauce can get thicker while being oven-baked. Plus, the cannelloni can absorb the boiling sauce and cook better.