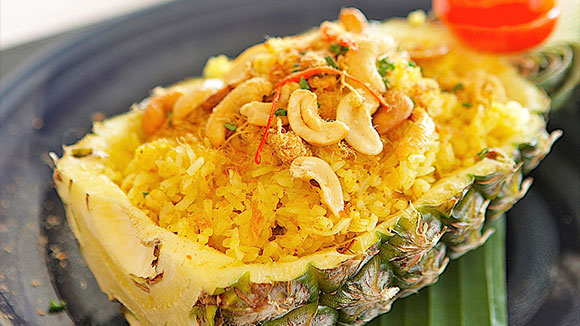 Pineapple Fried Rice
A Thai special of sweet fried rice infused with strong pineapple flavours.
Recipe serves:

3 to 4

Preparation Time

20 Minutes

Cooking Time

30 Minutes
Ingredients
½ a pineapple, cut into small cubes
1 tablespoon Knorr Chicken Powder Mix
2 cups Basmati rice
5 cups water
1 tablespoon vegetable oil
2 eggs, beaten
100g mushrooms, chopped
3 tablespoons soy sauce
3 spring onions, thinly sliced
1 cup diced carrots
METHOD
In a medium-sized saucepan, add the pineapple with 1 cup of water and bring to boil.
Then add rice and the remaining 4 cups of water. Bring the mixture to boil.
Cover and reduce heat to simmer.
Then cook for 25 to 30 minutes or until rice is tender.
Heat oil in a non-stick wok and add the eggs. Cook without stirring until set.
Slide eggs out of the wok and onto a plate. Cut the egg into short, narrow strips.
In the same wok, heat oil and stir fry the mushrooms, soy sauce, spring onions and carrots for about 4 minutes.
Stir in cooked rice, Knorr Chicken Powder Mix and egg strips.
Heat until everything is cooked. Serve in a hollowed out pineapple.
Looking for Easy Recipes with Fruits? Or perhaps recipes that make good party foods? This delightful dish is a fusion of both!



Chef's Tip:

Without boiling the pineapple separately you can cook it along with the rice for a better flavour.