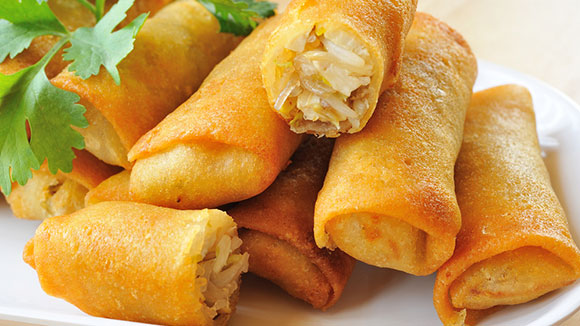 Mini Chicken Spring Rolls
Fresh and crunchy bite-sized spring rolls with a mildly spicy chicken and veggie filling.
Recipe serves:

4

Preparation Time

30 Minutes

Cooking Time

15 Minutes
Ingredients
12 spring roll sheets
300g roast or boiled chicken strips
100g carrot cut into strips
100g leeks cut into strips
100g Chinese cabbage cut into strips
1 sachet Knorr Chicken Powder Mix
1 tablespoon oyster sauce
2 tablespoons soya sauce
1 inch ginger, chopped
4 garlic cloves, chopped
2 tablespoons oil
2 onions, sliced
1 egg white, beaten
Oil for frying
Salt and pepper to taste
METHOD
Take the spring roll sheets out of the freezer and let it defrost. Cover with a damp cloth to prevent the sheets from drying.
Heat oil in a pan, fry ginger and garlic till golden brown. Then add onions and sauté.
Place the chicken into the pan and fry for a few minutes. Then add carrot and mix in Knorr Chicken Powder Mix, oyster sauce and soya sauce.
Add leeks and Chinese cabbage. Toss quickly and season with salt and pepper. Take off from fire and let it cool.
Cut the spring roll sheets in half and spoon a little chicken mixture into the middle of each sheet. Fold the three corners across the middle of the sheet like an envelope, and then roll it towards the corner that isn't folded.
Brush a little egg white into the corner that isn't folded to paste the roll together.
Deep fry the spring rolls and serve hot with soya sauce.
Simple chicken recipes like this one are good ideas for:
a) party foods
b) kids' foods



Chef's Tip:

For fat free cooking, spring rolls can be egg washed and baked in a moderate oven at 200°C till golden brown.