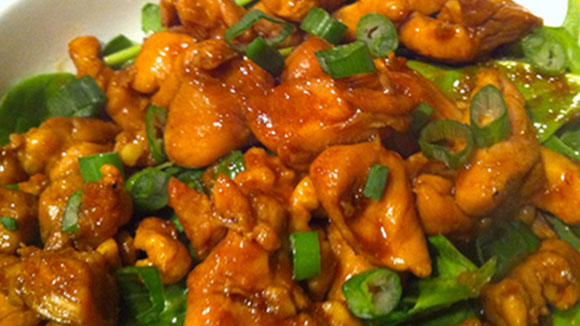 Cinnamon Orange Chicken
Tender and succulent chicken infused with deep flavours of cinnamon and orange.
Recipe serves:

4

Preparation Time

25 Minutes

Cooking Time

5 Minutes
Ingredients
500g boneless chicken cut into 1-inch cubes
1 packet Knorr Chicken Powder Mix
1 teaspoon cinnamon powder
1 green bell pepper cut into 1-inch squares
1 teaspoon brown sugar
Grated orange zest
Extract of 1 orange
2 tablespoons of oil
1 cup of spring onion leaves
Salt and pepper
METHOD
Season the chicken with Knorr Chicken Powder Mix, cinnamon powder, brown sugar, salt and pepper. Add orange zest and pour orange juice on top. Mix well to combine and refrigerate for 20 minutes.
Strain the liquid from the chicken into a bowl and save for later.
Heat oil in a pan and cook chicken on a medium heat till golden brown. Add the peppers and stir-fry for 2 minutes. Pour in the strained marinade juice of chicken and cook for another 2 more minutes.
Correct seasoning, sprinkle with spring onion leaves and take saucepan off the stove.
Serve with steamed Basmati Rice.
Wondering what kind of Christmas recipes you can combine delicious chicken recipes with? This fabulous dish is the answer.



Chef's Tip:

You don't have to fry chicken for a long period of time to get that golden-brown colour; simply add ½ a teaspoon of turmeric and 1 teaspoon of chilli powder when marinating to get that perfect colour.