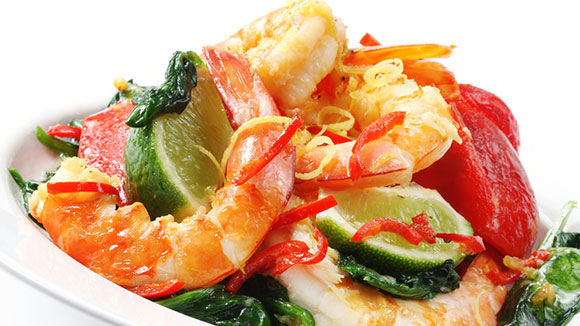 Wok Fried Chilli Prawns with Basil and Spinach
A zesty wok-fried seafood dish infused with a fiery spice, topped with fresh spinach, onions and basil.
Recipe serves:

4 to 6

Preparation Time

30 Minutes

Cooking Time

10 Minutes
Ingredients
20 large prawns, cleaned and de-veined
1 packet Knorr Chinese Chilli Recipe Mix
30ml oil
½ cup fresh basil leaves, coarsely chopped
1 cup of fresh and tender spinach leaves, roughly cut
4 spring onions, finely chopped
1 tomato, cut into wedges
2 B. onions, sliced
1 teaspoon freshly ground black pepper
1 tablespoon brown sugar
2 large cloves of garlic, crushed
1 juiced lime
Salt to taste
METHOD
Mix the prawns and ½ of the oil with Knorr Chinese Chilli Recipe Mix. Allow it to marinate for a few minutes.
Heat the remaining oil in a wok on medium heat. Add the seasoned prawns and cook them till the colour turns pink and well-done.
Mix all the remaining ingredients together and fry for another few minutes.
Adjust seasoning if needed.
Add this to your book of quick recipes and delicious party foods!



Chef's Tip:

Always remove the intestine and the shell from in-between the legs of a prawn before cooking.