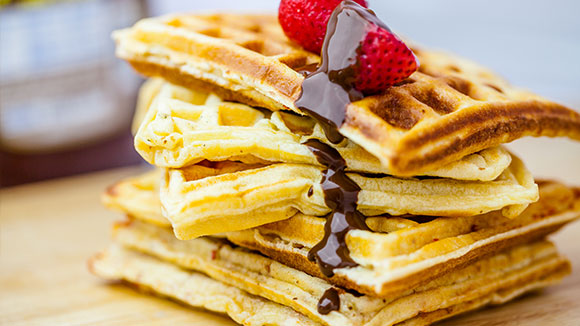 Sweet and Savory Waffles
Venture into the mouth-watering, buttery zeniths of sweet and savoury golden waffles that pack in a beautiful crunch!
Recipe serves:

3 to 4

Preparation Time

10 Minutes

Cooking Time

25 Minutes
Ingredients
Flour 250g
4 eggs
25g Astra
1 tablespoon baking powder
3 cups milk
Salt to taste
3 tablespoons sugar (For a sweet flavour)
1 teaspoon vanilla extract (For a sweet flavour)
1 sachet Knorr Chicken Powder Mix (For a savory flavour)
1 tablespoon of Chilli pieces (For savory flavour)
METHOD
Separate the egg whites from the yolks.
Combine melted Astra with flour, egg yolks and baking powder. Mix well.
Gradually add milk till a thick batter forms.
Whisk egg whites till fluffy then fold into the flour mixture carefully.
Divide the batter into 2 bowls.
Add sugar and vanilla to the first batch. Add Knorr Chicken Powder Mix and chilli pieces to the second batch.
Pour the batters separately into a waffle iron and cook till golden brown.
Searching for quick recipes to make kids foods and desserts? This is a perfect balance of both.



Chef's Tip:

If you do not have a waffle iron you can still use this batter to make pancakes. Simply heat up a frying pan, add a teaspoon of Astra, pour in a spoonful of batter, spread, cover with a lid and cook till golden.