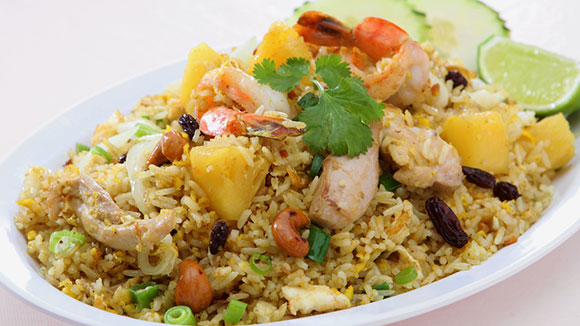 Hawaiian Chicken and Prawn Fried Rice
Chicken and prawn wok-fried rice with a signature Hawaiian twist.
Recipe serves:

6 to 7

Preparation Time

30 Minutes

Cooking Time

10 Minutes
Ingredients
1 onion, roughly chopped
50g ginger, roughly chopped
500g chicken meat, roughly chopped
300g prawns, peeled and chopped
1kg cooked Basmati Rice
1 teaspoon turmeric powder
3 sachets Knorr Chicken Powder Mix
200g pineapple, cubed
50ml cooking oil
1 tablespoon chopped parsley
Salt and pepper to taste
Pineapple slices for the garnish
METHOD
In a wok, heat the oil and sauté ginger and onions.
Add chicken and prawns and sauté until slightly caramelized.
Add Knorr Chicken Powder Mix, pineapple and turmeric and stir-fry well for a few minutes. Then add cooked rice and mix well. Season with salt and pepper.
Finally sprinkle with chopped parsley and garnish with pineapple slices.
Looking for quick recipes to make lunch? Bookmark this all-time family favourite.



Chef's Tip:

Make a slit on the back of the prawn to de-vein and remove the intestine.