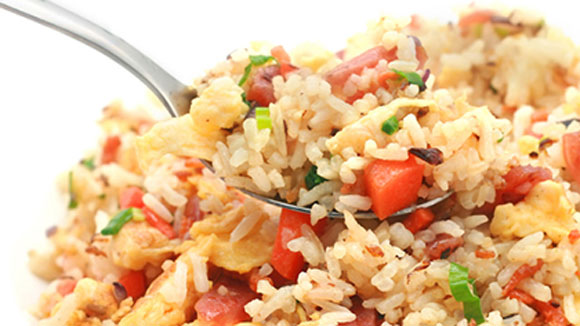 Festival Fried Rice
A steamy Basmati celebration bursting with loud flavours and vibrant colours.
Recipe serves:

4

Preparation Time

20 Minutes

Cooking Time

10 Minutes
Ingredients
5 cups cooked Basmati Rice
1/2 of 3 bell peppers (green, yellow and red)
2 Knorr Chicken Cubes
1/2 cup green peas
1 large carrot, cut into small cubes
1 B. onion, cut into cubes
4 green chillies, chopped
1 cup of spring onions, chopped
2 teaspoons ginger garlic paste
2 tablespoons soya sauce
1 teaspoon black crushed pepper
50ml oil
Salt to taste
Fried cashew nuts for the garnish
METHOD
Heat the oil, sauté onions, ginger garlic paste and green chillies.
Add carrot then bell peppers and green peas.
Add the Knorr Chicken Cubes and soya sauce.
Cook till the vegetables are crisp and firm. Season to taste.
Add rice and stir. Finally add the chopped spring onions and mix well.
Garnish with fried cashew nuts.
30 minute, flavourful quick recipes like this make cooking for 4 people a breeze!



Chef's Tip:

When cooking veggies always add the harder ones first. This will prevent soft veggies from getting overcooked.